The Journey of Choosing an Engagement Ring
The Journey of Choosing an Engagement Ring
There's something incredibly special about the process of choosing an engagement ring. It's a journey filled with excitement, emotions, and the joy of envisioning the symbol of your love and commitment. In this adventure, the possibilities are endless, and you have the freedom to create a ring that perfectly encapsulates your love story. As a Master Jeweller for Latitude for over a decade, I have witnessed countless couples embark on this search, I'm here to guide you through this magical journey.
Chapter 1: Traditional Elegance or Modern Charm
Choosing your engagement ring is like embarking on a "choose your own adventure" quest. Some prefer the timeless allure of a traditional engagement ring with a matching wedding band and, for the romantics, an eternity ring, typically given after the first year of marriage. For those who crave a deep commitment, they opt for the engagement and wedding bands as one, symbolising their profound connection. The wider band is adorned with low-profile diamonds in a bezel setting for easy wearability. This choice not only represents their engagement but also their impending wedding.
In this age of individuality, many seek unique styles. Some opt for larger stones on a budget, turning to lab-grown diamonds to get the most sparkle for their investment.
Embracing the "choose your own adventure" spirit is more acceptable now than ever before. It's a testament to the evolving landscape of love and engagement. At Latitude Jewellers we offer both natural diamonds and Lab-grown Diamonds.
Champagne Diamonds have also been a favourite choice for engagement.
Chapter 2: The Rise of Unconventional Shapes
In recent years, there's been a surge in the popularity of unconventional diamond shapes. Oval and pear-cut diamonds have captured the hearts of many (including mine), offering a fresh and unique take on engagement rings. What's more, the addition of a halo of diamonds around the central stone has become a trend that's both captivating and enchanting. It accentuates the main diamond, creating a dazzling display of sparkle.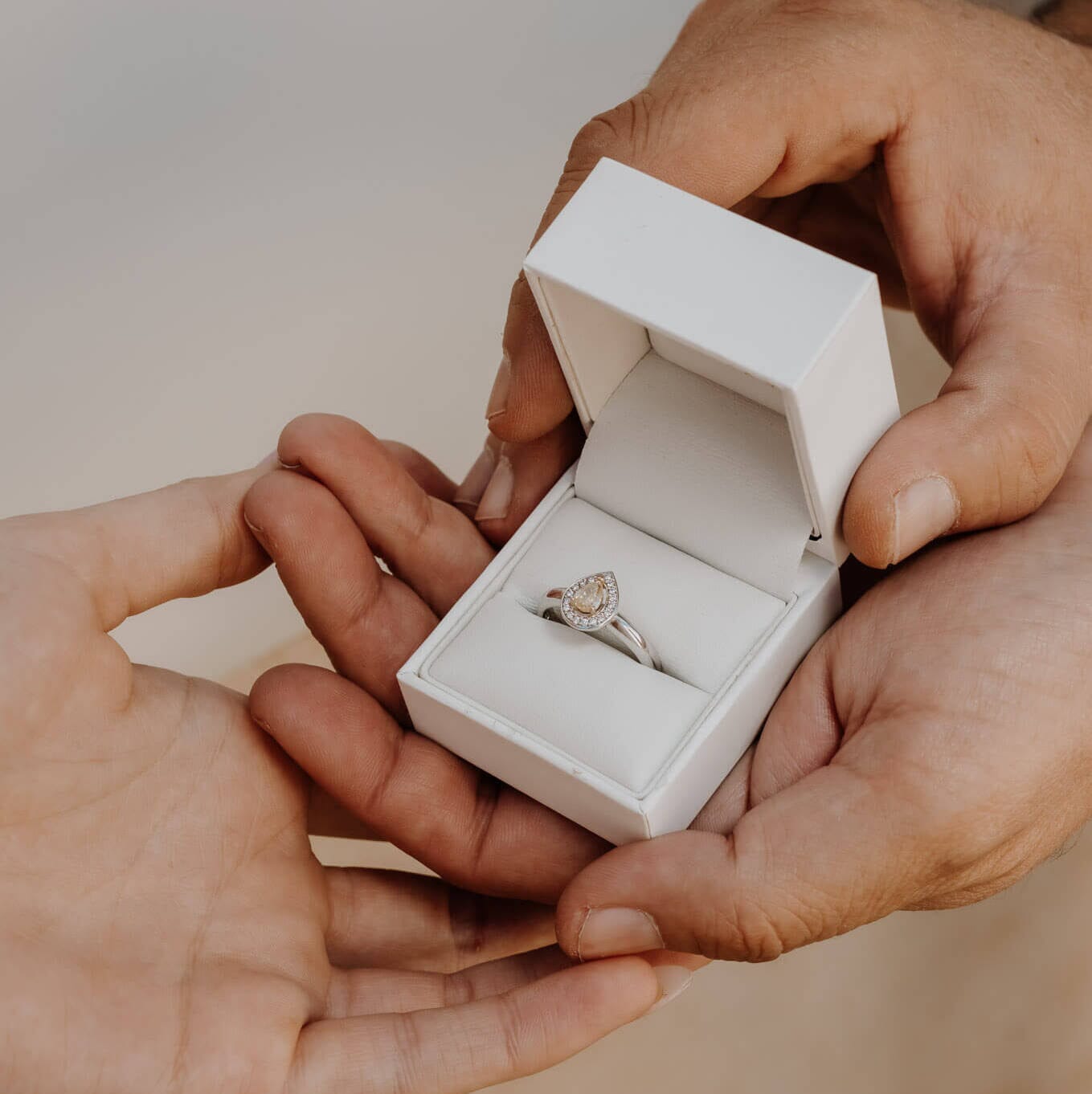 Yellow gold, which was once overshadowed by white gold and platinum, is making a comeback. In a world of ever-evolving fashion trends, our most sought-after engagement rings are those that blend yellow gold with white gold. The combination adds a hint of contrast and sophistication to the design, making the ring even more captivating.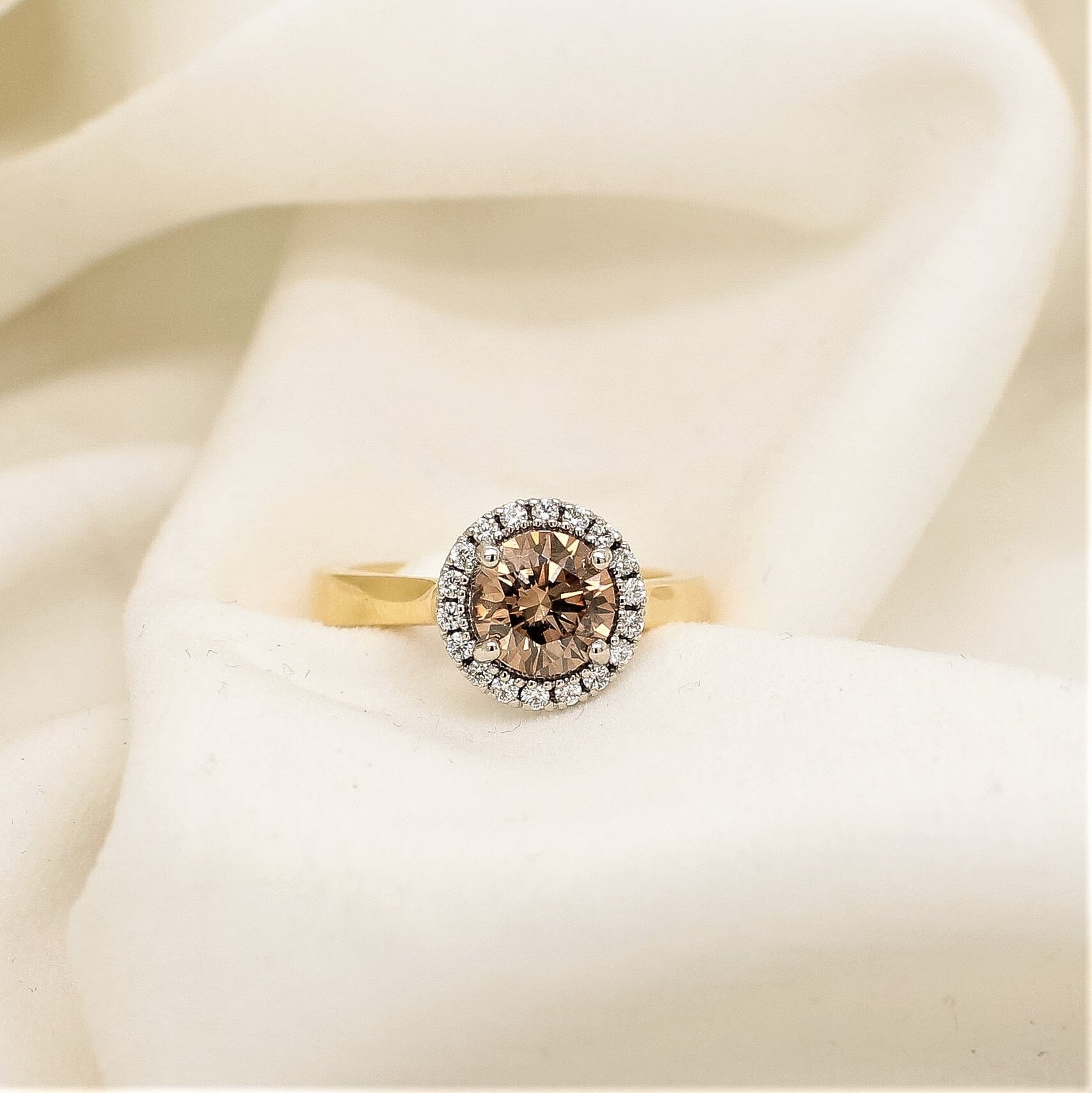 Chapter 3: The Search for the Perfect Ring
Choosing the perfect engagement ring can be an emotional journey. Here are some key points to consider:
            The Element of Surprise: If you're planning a surprise proposal, consider taking one of your partner's existing pieces of jewellery to a jeweller to get it cleaned. This not only helps with maintaining secrecy but also allows you to determine the right ring size.
            Visit a Jeweller Together: If you're not fond of surprises or want to ensure your partner gets the ring they desire, propose a visit to a jewellery store for a casual browsing session. You can even suggest getting your ring sizes measured "just in case."
            Inspiration from Pictures: It's common for one partner to have a collection of pictures on their phone, showcasing ideas they love. These can be a valuable resource for designing the ideal ring.
            Selecting the Stone: You might choose to purchase the main stone as the engagement offering and then collaborate with the jeweller to design the ring together. This approach ensures that the ring is a true reflection of both your styles and preferences.
            Drop Subtle Hints: If you're hoping for a surprise, subtly text your partner pictures of ring styles you've admired. It's a clever way to guide them toward a choice you'll love.
            Metal Matters: Consider your partner's existing jewellery. If they predominantly wear white metals, such as silver, white gold would likely be the best choice. Conversely, if they favour yellow-toned metals, yellow gold could be the way to go. Rose gold, while making a return, remains less common than yellow or white gold.
Chapter 4: The Symbol of Love
Engagement rings hold a unique place in our hearts. They represent not only the love we have for our partners but also the commitment to a shared journey. Choosing an engagement ring is a personal and emotional experience, and there's no right or wrong way to do it. Embrace the adventure, cherish the love, and savour every moment of the journey.
Conclusion: A Ring That Speaks of Your Love
In the end, it's not just a piece of jewellery; it's a symbol of your love, your commitment, and your journey together. The process of choosing an engagement ring is a beautiful adventure, one that reflects your unique love story. Embrace the freedom to create a ring that truly captures the essence of your love.
With every ring, a new chapter in your love story begins. Your engagement ring is more than a piece of jewellery; it's a declaration of love and a promise of a beautiful future together. So, choose wisely, with your heart, and let your love shine through the sparkle of that perfect ring.
Book an appointment today, and let us help you on your journey.